The world (and the internet, come to that) is full of worms and cats (notably Saqqara, Egypt). It's all down to the mummies who kept the vermin at bay. Meanwhile the penguins' domain is more limited, but there's someThing about it you have to acknowledge.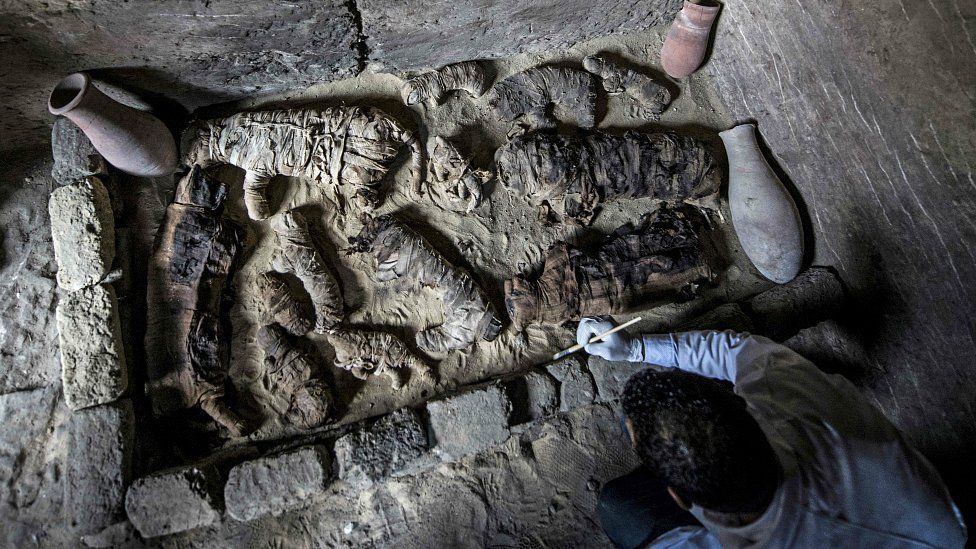 So here we go then, with The Catworm Thingu Edit – click play below:

If the player doesn't show, here's a direct download mp3 link.
The featured crossword puzzle by Italicus. (The Indy's direct links are broken 🙁, so select March 28th 2022 for it).
The General recommends this Twitter account and this website.
Void's Twitter and his Stamping and Combatant puzzles.
Dave's Twitter and his puzzles.
=======
Spoilers and links below the pic…
–
Nematodes
and
tardigrades
and and liddle lamzy divey; A kiddley divey too, wouldn't you?
–
Bastet
… et al.
– You should never
go full Croesus
, Vladimir.
– We are all interested in the
euture
, for that is where you and I are going to spend the rest of our lives. [
sic
]
–
Thingu
… noot for the faint-hearted! [
sick
]
– Aaaand those Chambers
missing words
in full.
You don't hear "Victor, Victor, give us a wave!" very much these days, but thankfully you can always hear from The Trudy, via Bandcamp and Twitter, and their very own web site. Imagine that.
This it the obligatory 'Please LIKE, FOLLOW, RATE, REVIEW' section. We don't know which service you're using, and yes they all work differently. In Spotify, you need to Follow us first, and then click on the star to give us a rating. For Apple podcasts, make sure you're rating us within Apple Podcasts itself, and not just your local star rating in the player. Any which way, please SUBSCRIBE to us! You have choices of Apple Podcasts, Spotify, Acast, or this RSS feed in any podcatching app/program. We really appreciate any and all of the above. Also TELL YOUR FRIENDS.